Charles Zikalala can remember landing in a Nunavut community and having to walk from the airport into town, luggage in hand. "It was kind of hard," he said.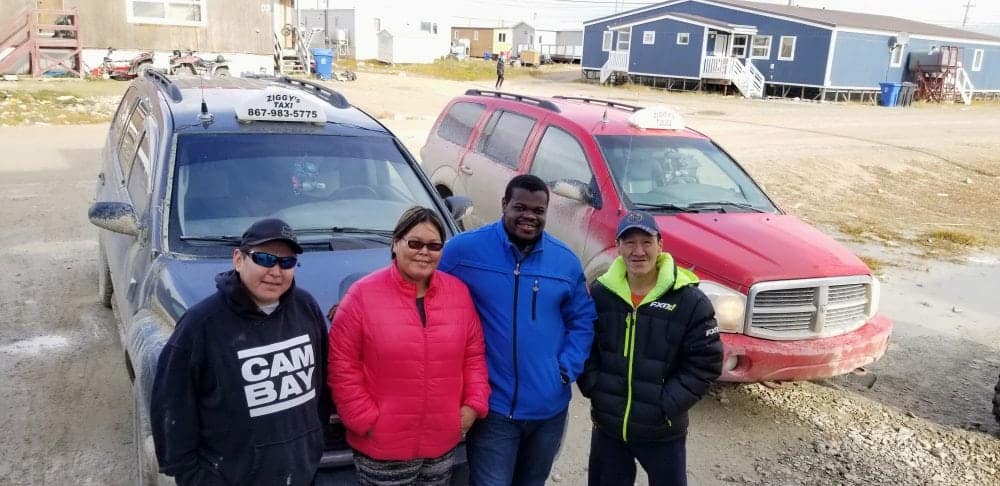 He's also felt sympathy while watching elders struggle to get around Cambridge Bay, and that inspired him to start Ziggy's Taxi in October 2015, despite the existence of three competing companies at the time, he said.
"I've seen a whole bunch of elders and mothers packing their babies walking a very far distance," Zikalala said. "When I started it, it wasn't based on wanting to make profit but because I wanted to help the community."
He and his wife Elaine began offering service with a single vehicle – a 1995 GMC Sierra pickup truck. Now they have three cabs on the road in Cambridge Bay. By October, Zikalala expects to have three vehicles available in Kugluktuk and two in Rankin Inlet as he expands his business. There's no existing competition in Kugluktuk.
Mayor Ryan Nivingalok embraces the idea of having taxi service available in Kugluktuk once again.
"I'd say yeah, residents are going to benefit from this," he said, noting that it's fairly common to hear people asking for rides to and from the airport.
Nivingalok recalls other cab companies starting and shutting down in the community, primarily because it's difficult to keep vehicles maintained and on the road, he said.
In Rankin Inlet, Fluffy's Taxi has wheels on the ground, but the owner couldn't be reached for comment prior to press deadline.
Zikalala is considering branching out into other communities, too. Gjoa Haven, Kugaaruk and Baker Lake are possibilities, he said, adding that he has friends across the territory who advise him on where the need is greatest.
"I have ambitions to keep going," said Zikalala. "I don't know how many communities or when I'm going to stop. I want to help as many communities as possible."
The biggest challenge in broadening his business is identifying trustworthy people who will look after the company's best interests, he said. He believes he's found those people in Kugluktuk and Rankin Inlet.
"I believe they'll be great managers," he said, adding that the Kitikmeot Inuit Association has provided incredible support for establishing Ziggy's Taxi in Kugluktuk.
When his new satellite operations are up and running, he will have created work for a total of eight full-time drivers and one backup driver.
Although his background is in mental health and social work, Zikalala said he grew up in a family with a strong entrepreneurial spirit.
"My parents were business owners," he said, "so I have that drive in me to own my own business as well."